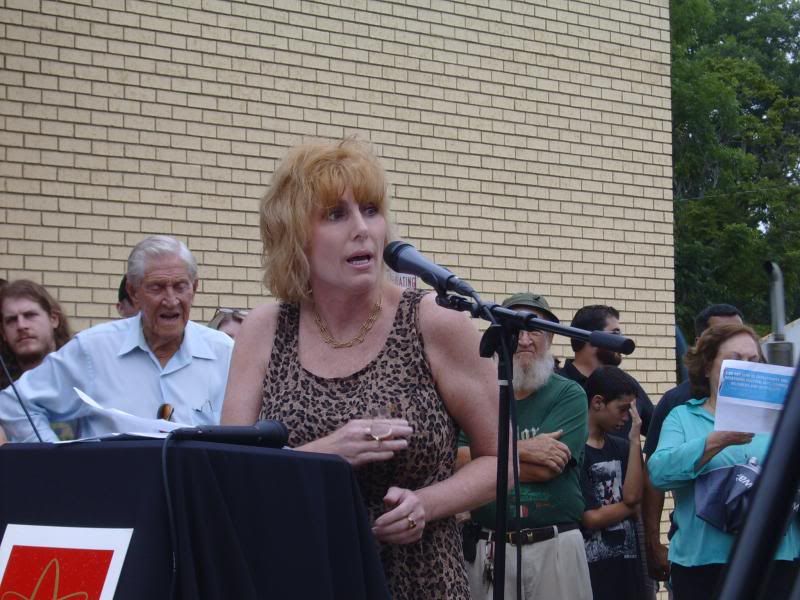 Retired attorney
EllenBeth Wachs
(2013 photo)
versus:
"
Polk Under Prayer

" (aka "

PUP
")
In early 2011
Polk Under Prayer
was organized as an affiliation of political leaders and Fundamentalist/Protestant churches/freelance Evangelical preachers in
Imperial
Polk County, Florida, whose mission is described in part as:
"

If they will

not submit to God's way

of living, then the prayer is to

have them incarcerated

or removed from the county

."
The above photo was taken on
March 1, 2011
, at the "
Polk Under Prayer
" event held at the
HIGHLAND PARK CHURCH OF THE NAZARENE
in Lakeland, FL.
Shown L-R, event VIPs: Lakeland
Mayor
Gow Fields;
Polk County School Superintendent
Sherrie Nickell; and
Polk County Sheriff

Grady Judd
.
Also shown are Polk Under Prayer event organizers: freelance evangelical preachers Richard Gerringswald (2nd from right) and Tim Williams, far right.
Now consider what happened just
2 days later
to a Polk County resident in the context of the above group ...
ELLENBETH WACHS
, a retired attorney, outspoken atheist and church/state separation activist was arrested. Over a dozen of Sheriff Judd's SWAT garbed deputies raided her home, searched it, held her employees at gunpoint and jailed Ms. Wachs.
Why?
The "official reason" on the arrest affidavit was because she signed her name with "ESQ" on correspondence with Sheriff Judd and three other people, including the mayor (pictured), the sheriff's attorney, and who today is the Polk County Clerk of the Courts, stated that they "thought" that she sounded like an attorney.
Actual reason why ...
RETALIATION
In Dec 2010, Ms. Wachs had challenged Sheriff Judd over his Christmas PR stunt transfer of taxpayer property (jail basketball goals) to area churches. In Jan/Feb 2011, she further discovered through Freedom of Information Act (FOIA) requests that the sheriff department credit card, personnel and other resources were used for Judd's PR event.
Also, Ms. Wachs was the lead plaintiff in a Federal 'Prayer' Lawsuit (initiated June 2010) against Mayor Gow Fields (shown in PUP group photo above) and she had challenged the Polk County School Board prayer ritual, Feb, 22, 2011, (School Board Supt. Nickell shown in PUP photo above) ... more details on these issues below.
And, if that wasn't enough, again in May, on clearly more trumped up felony charges, she would again be arrested and held in solitary confinement for 6 days.
Church/state separation activist, atheist EllenBeth Wachs, in Sheriff Grady Judd's jail issue clothing, stands before
Polk County Judge John Stargel
, an outspoken evangelical Christian politician.

Official seal of

IMPERIAL

POLK COUNTY
-----
We'll thread the main characters of this Dominionist group together starting with
Tim Williams
, seen on the far right in the group photo above, and one of the co-organizers of the 1 March 2011 "Polk Under Prayer" (PUP) event....
... Tim Williams, in the red shirt in the below photo, is seen with "Pastor Frank" Smith of Frank Smith Ministries (Winter Haven, Polk County, FL).
An excerpt from the Frank Smith Ministry website states the objective of "Polk Under Prayer" (PUP) ...
Frank Smith Ministries wrote:

"

A strip of

anointed oil

has been placed over all lanes of highway at the county line and a prayer has been given at each location asking God to bring them to have

angels

inspect every vehicle that travels into or out of this county and to bring under conviction to those who seek evil and we asked God to bring them to a state of submission and repentance.If they will not submit to God's way of living, then the prayer is to

have them incarcerated

or removed from the county.

"
(Text enlarged in next post)
We'll talk more about Tim in a bit ...
.